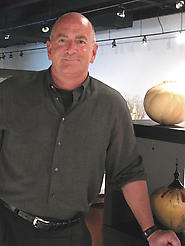 Donald Brecker, the founder of rakovaBRECKERgallery, began his love affair with wood art in the late 80s when he began to collect studio furniture. Eventually he employed only studio furniture makers to renovate his townhouse in the Back Bay neighborhood of Boston. He collaborated on this project with the Argentinean architects Rodolfo Machado and Jorge Silvetti, both professors of architecture at Harvard University. Given the fastidiousness and attention to detail of all the artists employed, the project was an enormous undertaking that took two years to complete. In Donald's words, "I'm proud of the fact that the project was covered in the September 1992 issue of Architectural Record. The home was also featured in The New American Apartment, by Oscar Rierra Ojeda, and in The Whitney Library of Design in 1997."
In 1992 Donald decided to open his first gallery, called simply Donald Brecker, in the South Beach area of Miami. In September of the same year he saw a project by the famed Venezuelan architect Carlos Zapata in the same issue of Architectural Record that had featured Donald's home. He discovered that Carlos' office was on the same street as his proposed gallery. They collaborated on the gallery design and the spectacular interior was published in a retrospective of Zapata's work entitled The Restlessness of Architecture written by Joseph Giovannini, Karen Stein, and Beth Dunlop, and published by L'Arca Edizioni in 1996.
The gallery, in conjunction with Peter Joseph, focused on studio furniture, with work by Wendell Castle, Alphonse Mattia, Tim Philbick, Albert Paley, Peter Dean, Judy McKie, John Dunnigan, Sam Maloof, Tommy Simpson, Wendy Maruyama, James Sagui, Dale Broholm and others. It also showed photography by artists such as Avedon, Freed, Man Ray, Arbus, Mapplethorpe, Hine, Sturges, Ritts, Newton, Weston, Horst, Wegman, Goldin, Demarchelier, and others. The final element was work by metalsmiths working primarily in sterling silver. Donald Brecker was a gallery ahead of its time and created a perfect platform of experience and contacts for Donald's future work as a galeriste. He explains how his vision developed : "After a period representing companies such as Ochre, BDDW, Tuell & Reynolds, Andre Joyou, Tomas Frenes, Aspen Design Works, and a host of other smaller companies, I decided that my true desire was to have an art gallery."
Donald's feeling was that the market was changing and clients were allocating more resources for fine art to match the level of sophistication that interior designers and architects were specifying. In the late 80s and early 90s in his home town of Boston, Donald had started purchasing turned and sculpted wood at the gallery of The Society of Arts and Crafts. It was not until several years later that Donald realized he had been purchasing work by artists now recognized as masters in their field, such as Bruce Mitchell, Ron Fleming, J. Paul Fennell, Jere Osgood, William Moore, and Dewey Garrett. It was an early indication of the sophisticated taste that would underpin the philosophy of rakovaBRECKERgallery.
Donald's passion for contemporary sculpted wood continued, but he decided that it was not being represented at the level of sophistication that the work deserved. As he explains, "I felt these artists needed to be exhibited by a gallery that was totally dedicated to this art medium. Because the field lacked galleries genuinely promoting or investing in their artists' careers, a major thrust was needed for collectors, designers, and architects to see this work. No art medium has received less attention than contemporary wood sculpture and there is one simple reason why: few have had the opportunity to see it." With typical energy and in a whirlwind of creative promotion, Donald has established relationships, often exclusive, with many of the world's most renowned wood artists. rakovaBRECKERgallery is already spoken of as the premier contemporary wood sculpture gallery in the world.
The gallery advertises broadly in such publications as Art in America, Art News, Art Forum, Art & Auction, Whitewall, and HOME Miami, taking wood art to a new level of carefully targeted public exposure. Donald proudly describes their progress: "We are constantly looking for new talent and have sold work to some of the country's most prestigious art collectors, interior designers and architectural firms." Donald is of the opinion that the fine art he represents will find a place in discerning homes and in a myriad of other design applications.
The rakovaBRECKERgallery owes much of its success and rapid recognition to the assistance of many people, including Terry Martin and Kevin Wallace. Thanks are also due to the already well-established artists who were willing to commit to a gallery that did not have a long history in the field. Their enthusiastic response confirms that there has been an overwhelming need for a new and enthusiastic outlet that offers an energetic approach towards marketing contemporary wood sculpture.
Many successful endeavours in life are due to events which can only be described as serendipitous. The relationship which developed between Donald Brecker and Mark Lindquist, as well as Mark's patience, energy, and insight, are responsible for the birth of the rakovaBRECKERgallery. As Donald Brecker has stated: "I could not have accomplished what you see today without the collaboration of one of the most learned and gifted wood sculptors in the world, Mark Lindquist."